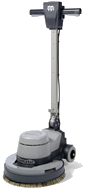 Scrubbing Machine
Purpose: Scrubbing hard floors and carpets.



Hose


Janitorial trolley
Purpose: For cleaning and collecting waste in rooms, consists of bucket, wringer.




High Pressure Washer
Purpose: Washing parking yard, drains, walls.

Static Mop
Purpose: Dry moping hard floor.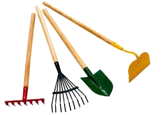 Garden Tools
Rakes, hoes, Shovels
Purpose: Different purposes.


Rubber Squeegee
Purpose: Move water on hard floor.




Wheel Barrow
Purpose: Move equipment, soil or waste.



Equipment Rack


Petrol Lawn Mower
Purpose: Cutting grass in lawns.




Grass Trimmer
Purpose: Cutting grass.



Step Ladder